Martje van der Heide, at Creative Partners Gallery, 4600 East-West Highway, Bethesda MD, through May 31. There is vitality and history in these figurative paintings. Mostly of single figures, each depicting a specific emotion, they are reminiscent of the Italian Renaissance inter composition and expression. The three luscious nudes in the standing screen have stepped right out of the 16th century. At the same time there are area of abstraction, with suggestions and distortions of body aspects which juxtapose well with the more formal presentations. The classical beauty of Dawn plays off the essence of sorrow in Wheep about a Palpable Absence, while the almost disembodied hands, one inviting, the other repelling, of the complex old man in Wisdom moved me tremendously. Using acrylic and charcoal to achieve her colors and textures, van der Heide displays a mastery beyond her years.
Rima Schulkond – KOAN (CRITICS ROUNDTABLE)
…. 'Martje van der Heide's fine painterly renderings of Greco-Roman figures show a Michaelangelic attention to facial features and body musculature. She adulterates the classical effect, though, with random paint splats and drips — perhaps suggesting a certain desuetude in Western culture at the close of the second millennium?'
The Georgetowner
Born in Apeldoorn (Netherlands), Martje van der Heide had always had the ambition to become a full time artist, even though she started as an X-ray technician. This experience did however teach her a lot on photography and dark room techniques, as well as gave her a knowledge on human anatomy.In 1988 she attended the drawing Academie in Amsterdam and later on attended for four years the "Corcoran School of Art" in Washington. Her first solo exhibit was held at the Adams Morgan's "Cloud Nine Gallery", where she showed abstract work, as well as photographs.In 1994, Martje attended Bill Christenberry's workshops at the Corcoran School of Art where, while maintaining a base of abstract expressionism, was inspired by Italian Renaissance, shifting from the figure as an "object" to the emotions they express, and from drawing to painting.In the summer of 1997, after a trip to Tuscany (Italy) the stunning Renaissance sculptures were an inspiration for a show in 1999, while a trip to Rome in 2000 trapped her eyes on Bernini's sculptures, the prime motivation and inspiration for an exhibit in 2002.From 2002-2005 she lived in the DRC where she worked with an NGO fighting HIV/AIDS and dealt with the Congolese artist community; organizing exhibits with themes related to HIV/AIDS.
After a sojourn from 2005-2008 in Washington (USA), where she moved away from Renaissance era and started a series of Baroque portrait paintings, in 2009 she moved to Nigeria. In Abuja she is exhibiting her new Baroque portraits, paintings and drawings.
Italian Embassy, Abuja
Press
: The Georgetowner, October 14, 1999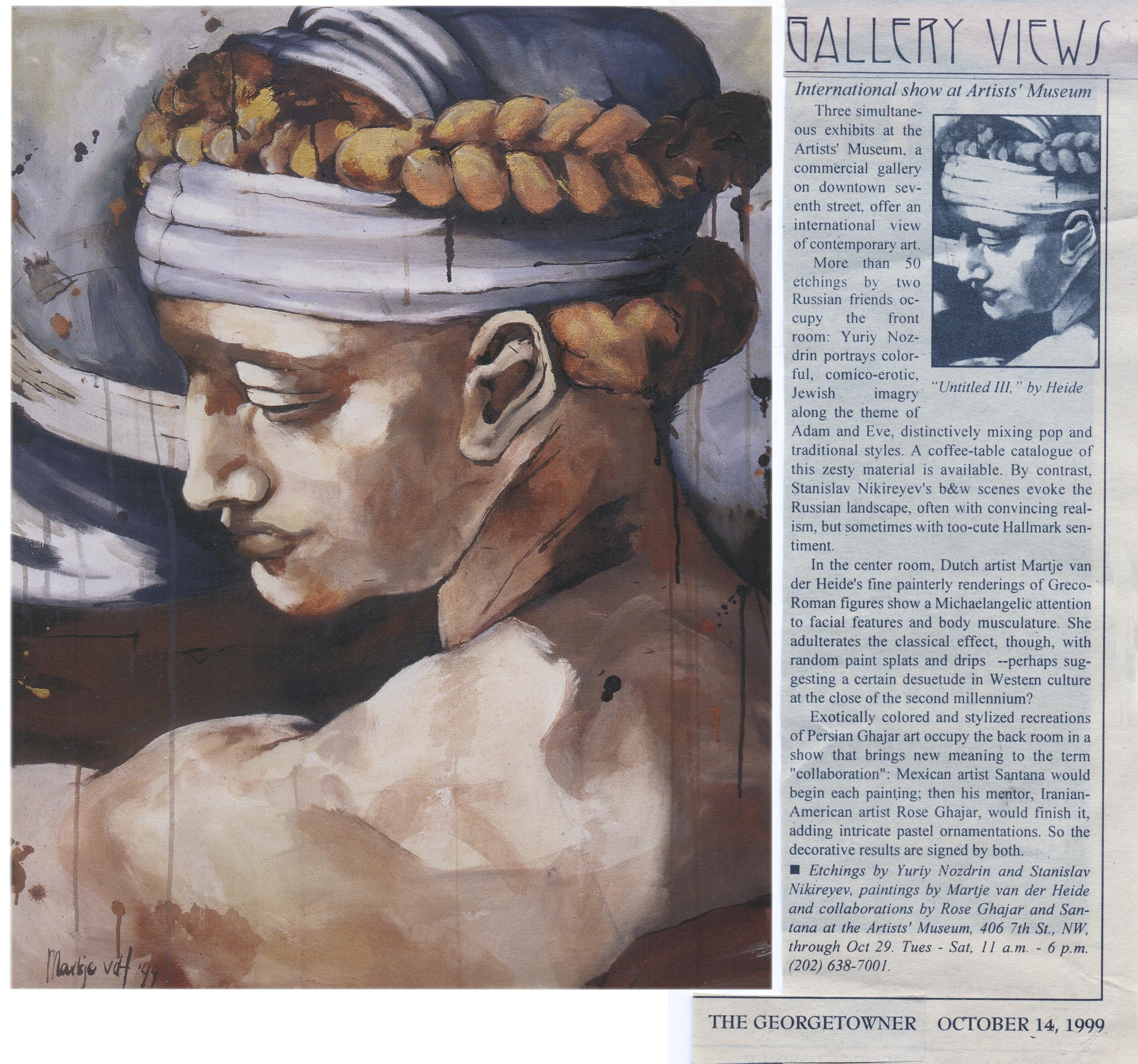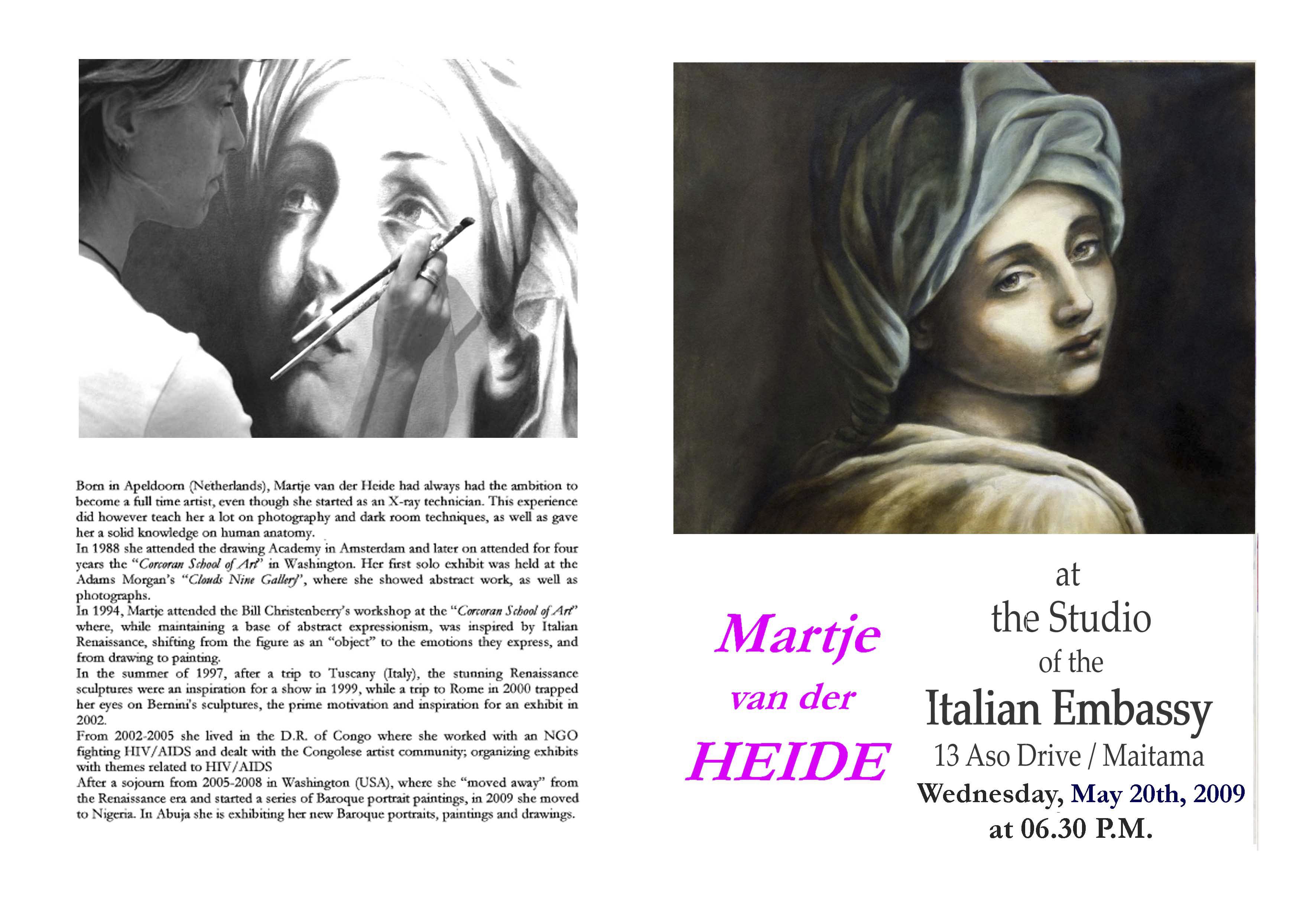 Press: The Daily Trust, May 23, 2009